Due to COVID-19 issues, the Pender HS varsity girls basketball game vs. Laney scheduled for tonight has been canceled. Pender Varsity Boys will play at Laney 6 pm as scheduled. No JV games tonight. PHS plans to resume varsity girls basketball activities as soon as possible.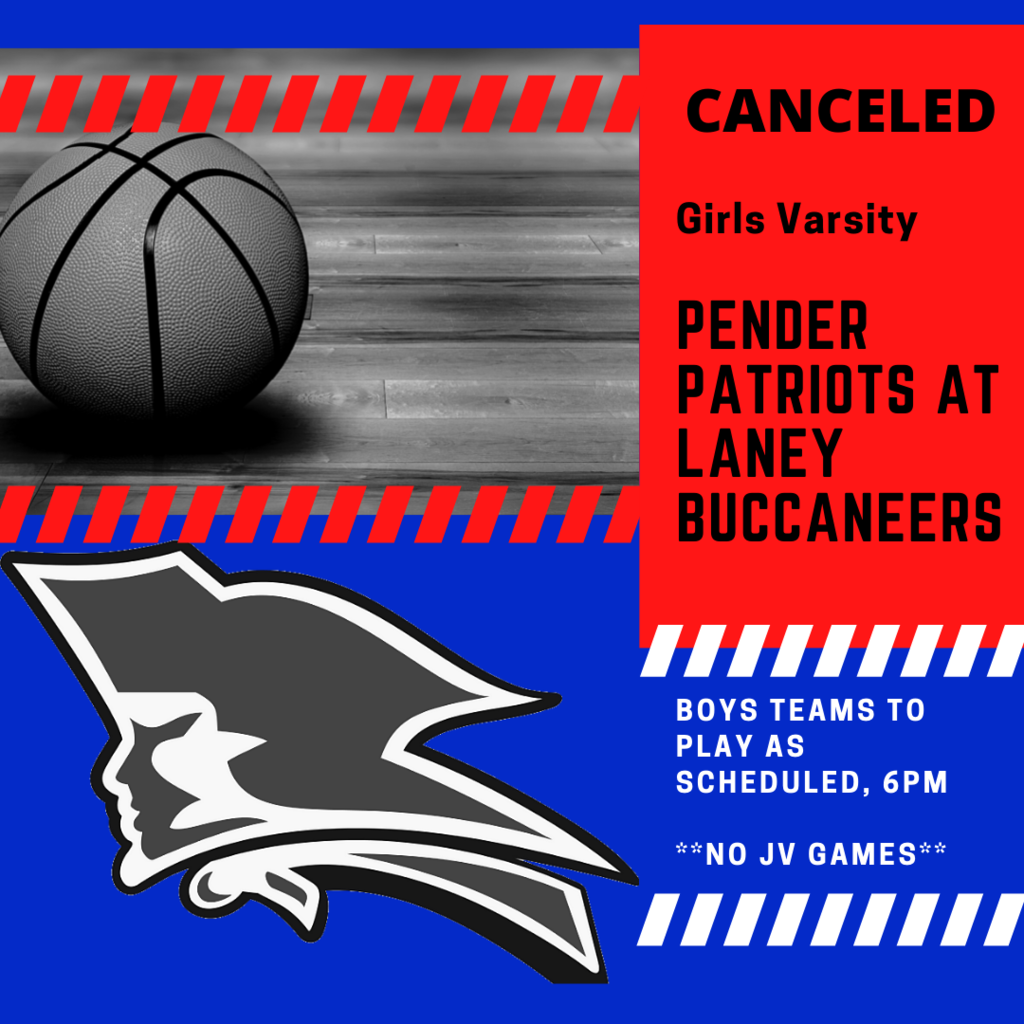 Spots for Effective Teacher Training at CFCC's Burgaw Campus are filling up. Remember this course is mandatory for substitute teachers in Pender County Schools.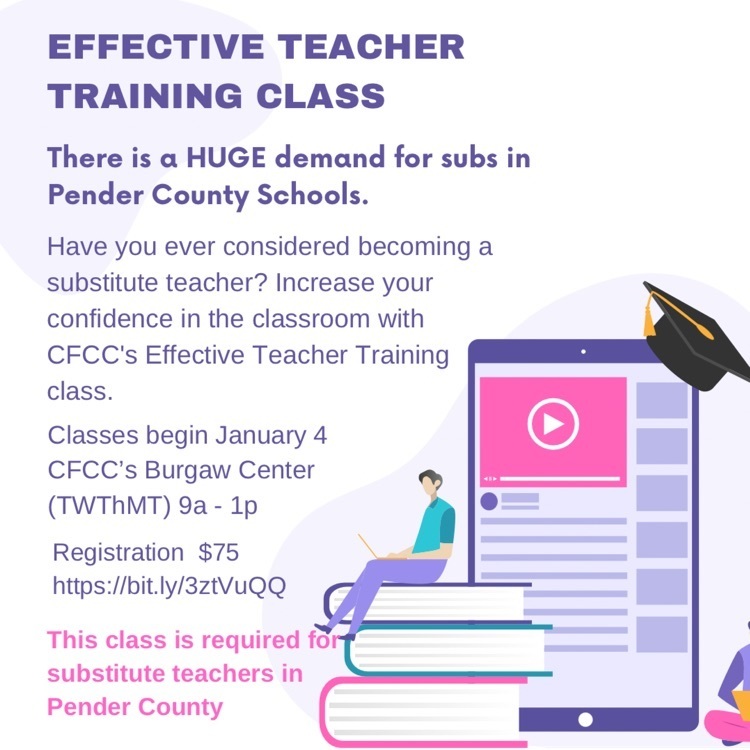 BOARD OF EDUCATION - special meeting, Tues Dec. 29, 9 a.m.. The purpose of the meeting is to discuss the NCDHHS Contract with Pender County Schools, Commissioners & BOE Joint Resolution , CFES-CFMS Fire Suppression System, and Pender County School district masking protocols.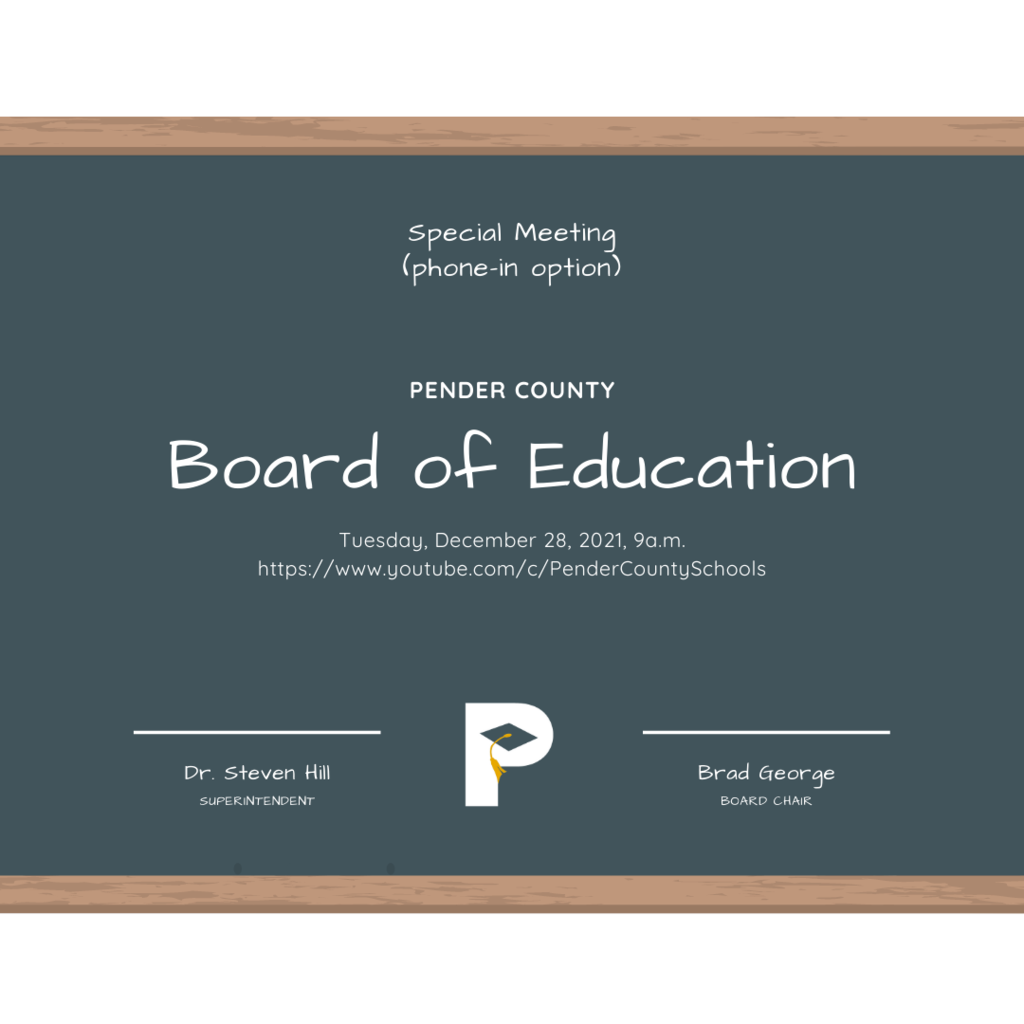 WALK THE WALK - just a reminder of dates and times for Early Graduation ceremonies. We're looking forward to a very special January 7!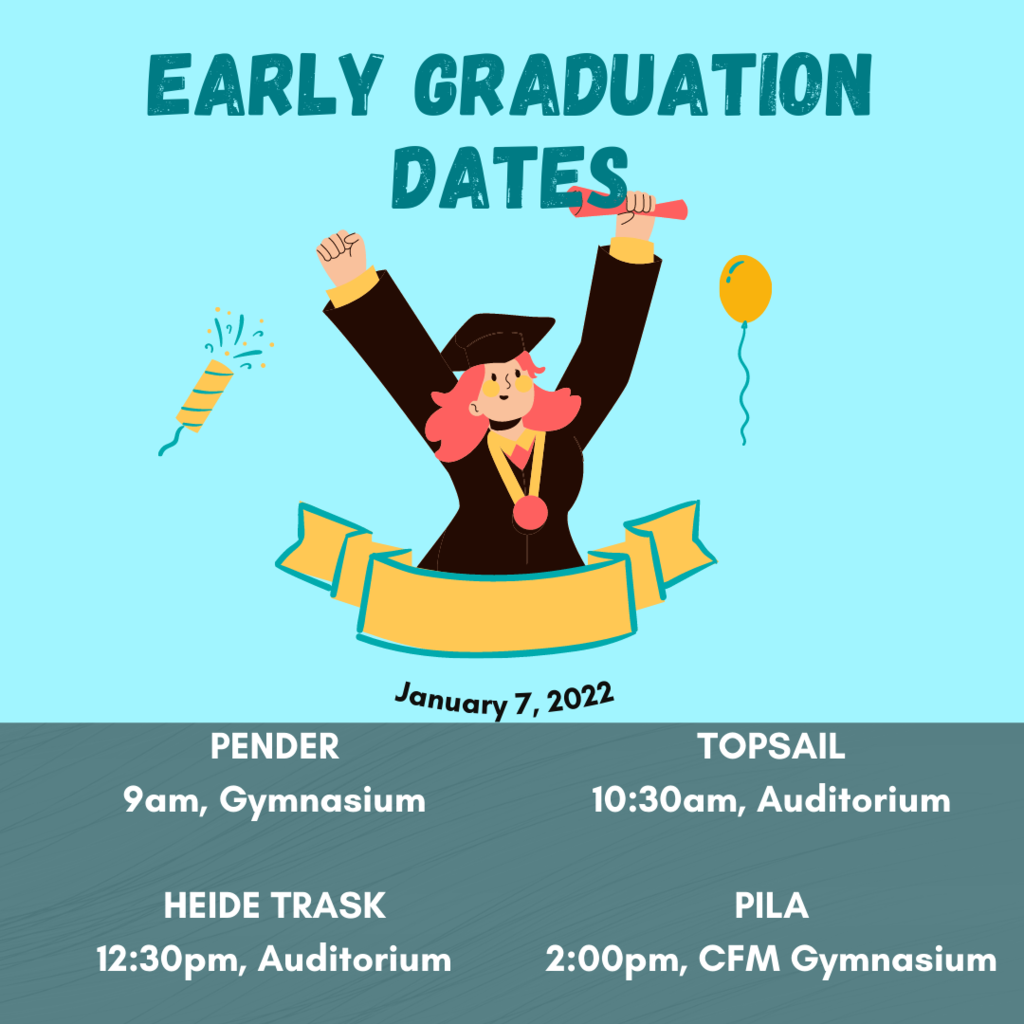 As we head into winter break, just reminder about our Publix School Stars program. It's a way of saying THANKS to deserving people giving them a chance at winning a $20 gift card from Publix. Click the link for the nuts and bolts of who and how to nominate
https://bit.ly/3uZshuO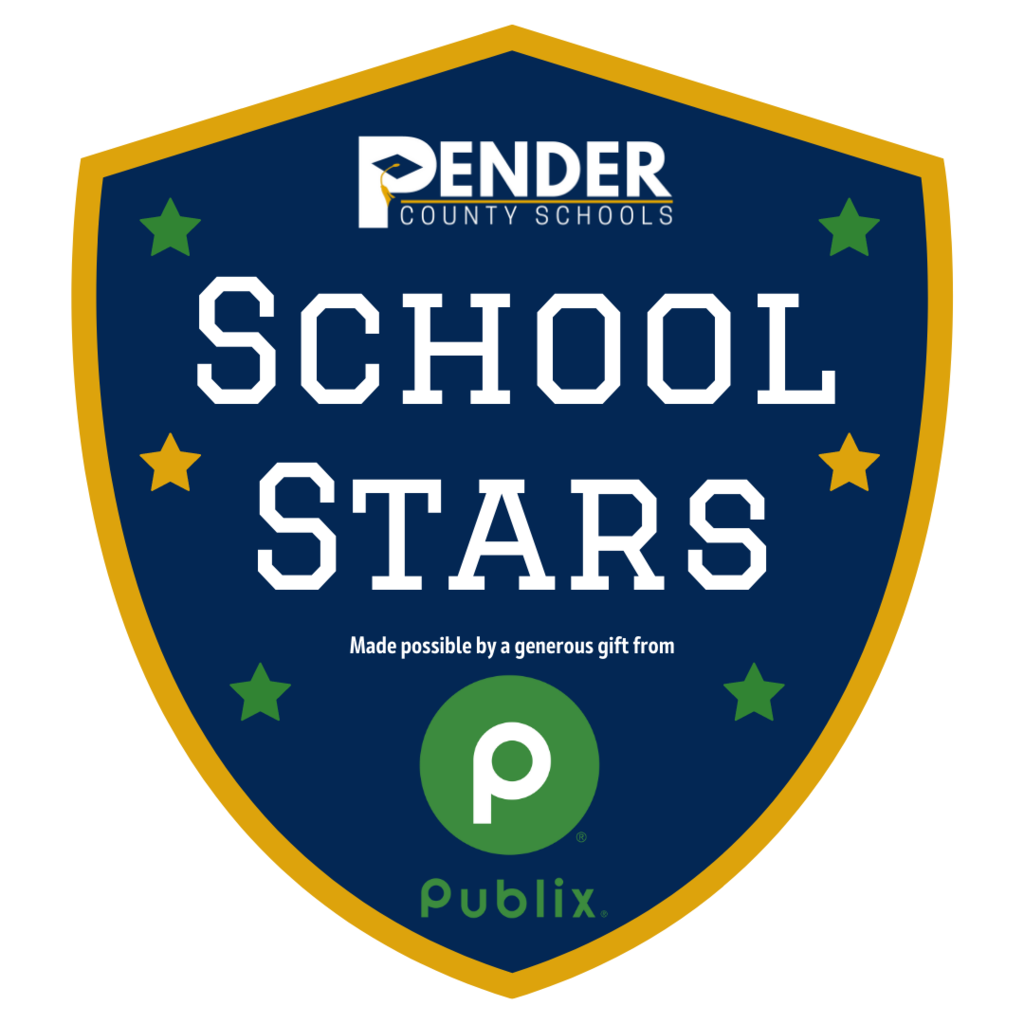 Following an error by the booking agent, the County Championship soccer match between Topsail Middle and Surf City Middle will be played January 11 at 4:30pm at Topsail High School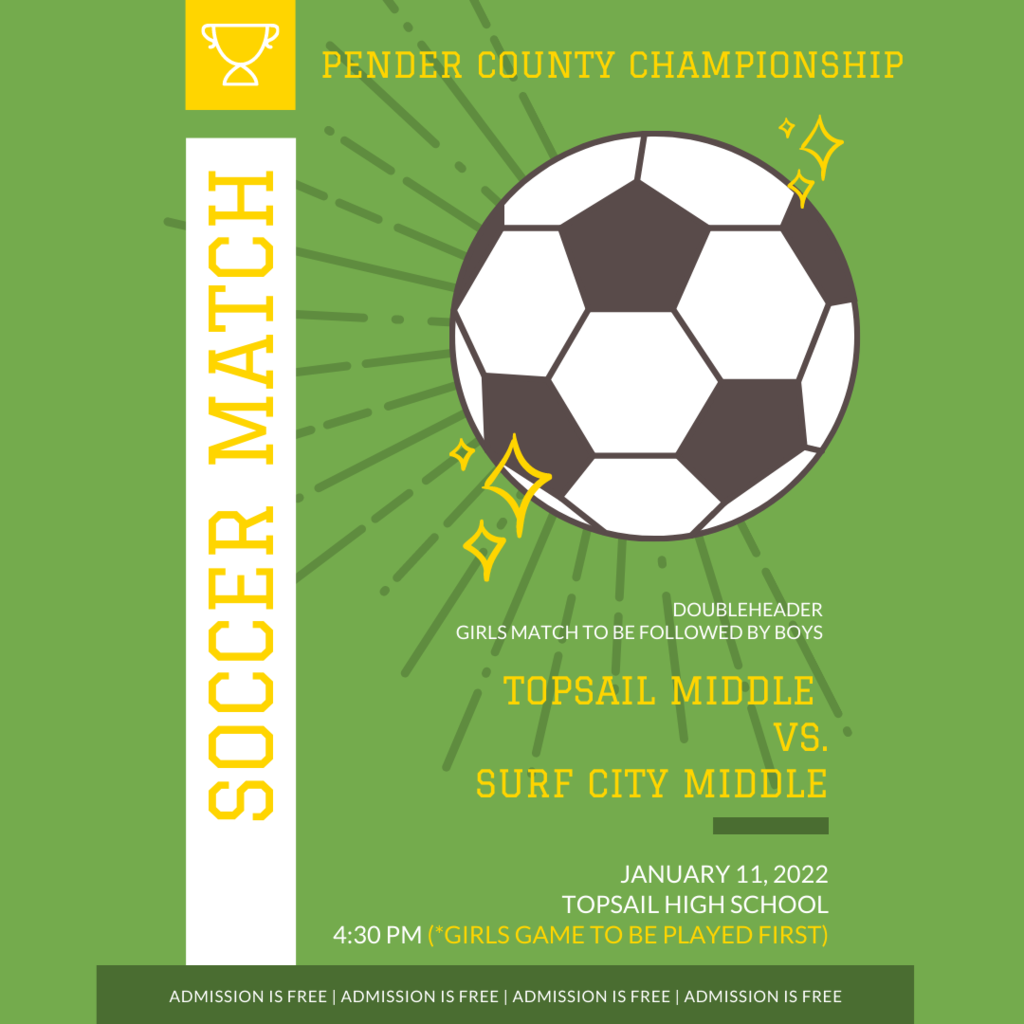 His goals are to get better at math and become a Marine. If he hasn't won you over, Stephen Andrejack lists "mom" as who he admires. Put it all together and you get this weeks Star News Pender County Schools Student of the Week.
https://bit.ly/3J8BhnX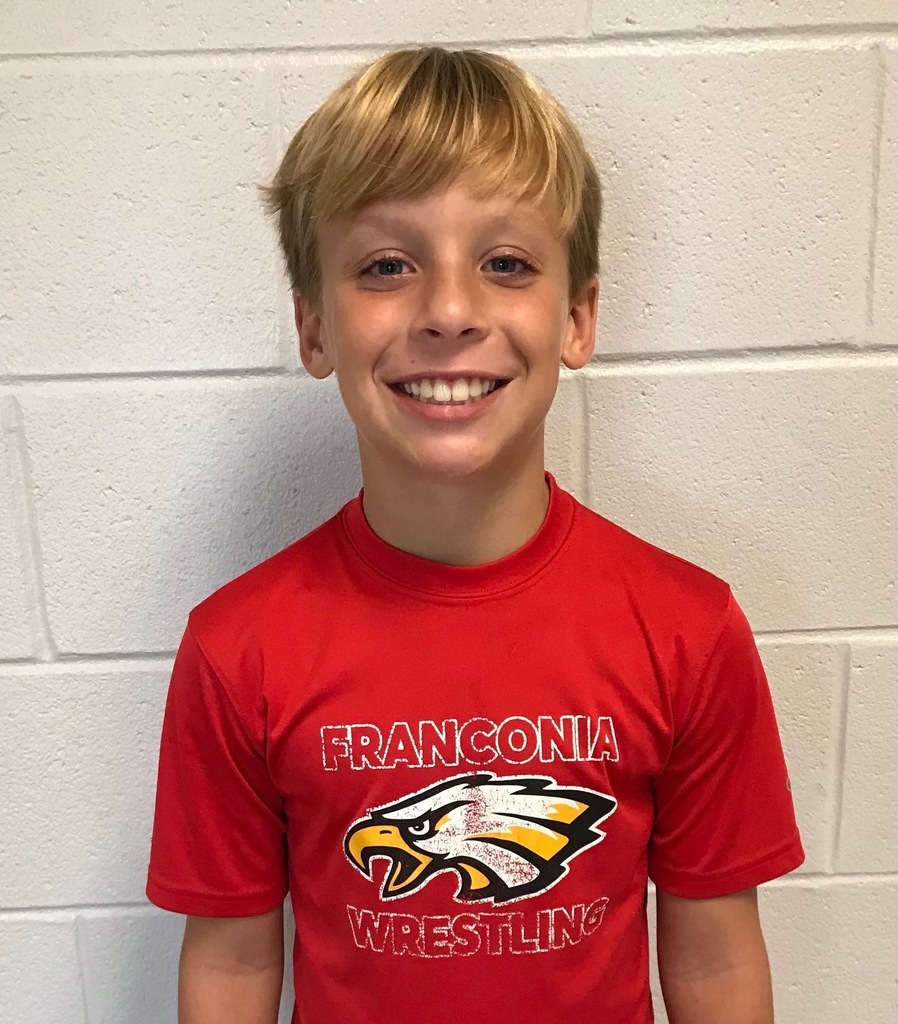 TURN THOSE TASSELS!!! - Congratulations to the early graduates from Pender Early College who walked this afternoon at Cape Fear Community College's Union Station. We're very proud of your accomplishments!!
https://www.youtube.com/watch?v=LgSwCv6449Q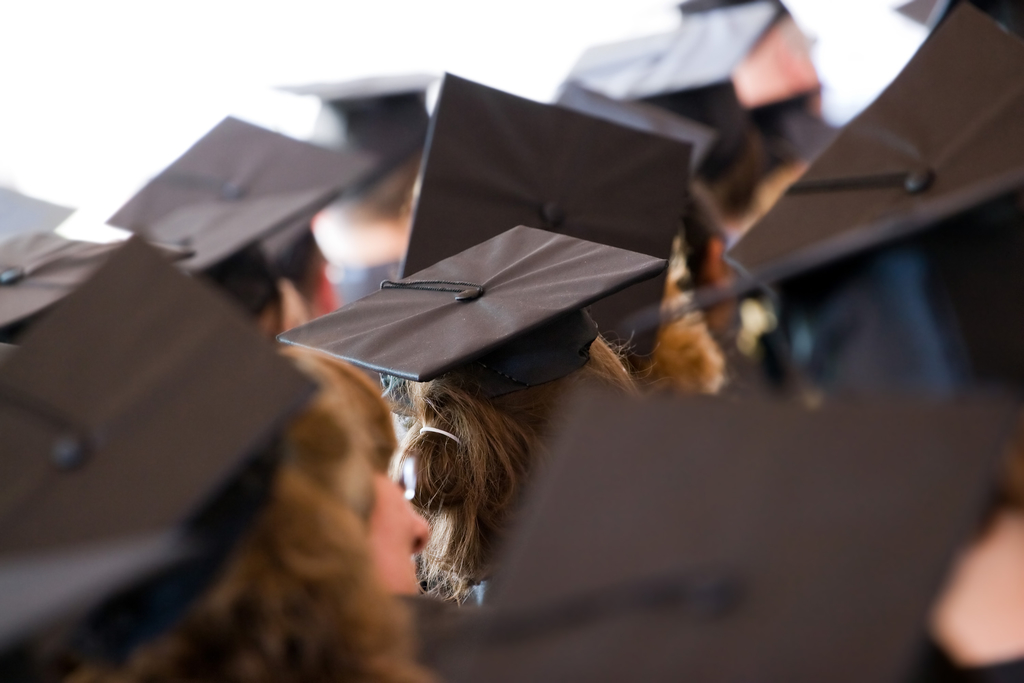 Unfortunately tonight's scheduled County Championship soccer matches between Topsail Middle and Surf City Middle Schools at Topsail High School have been postponed due to a scheduling error by the booking agent. The booking agent is contracted to provide officials for all matches. Players, coaches and fans were all ready to play the matches, unfortunately the officials were not notified by the booking agent. Principals, Athletic Directors and Coaches with each team will work to secure a reschedule date to play the matches as soon as possible. Teams will be notified as soon as a rescheduled date is secured. We apologize for the inconvenience.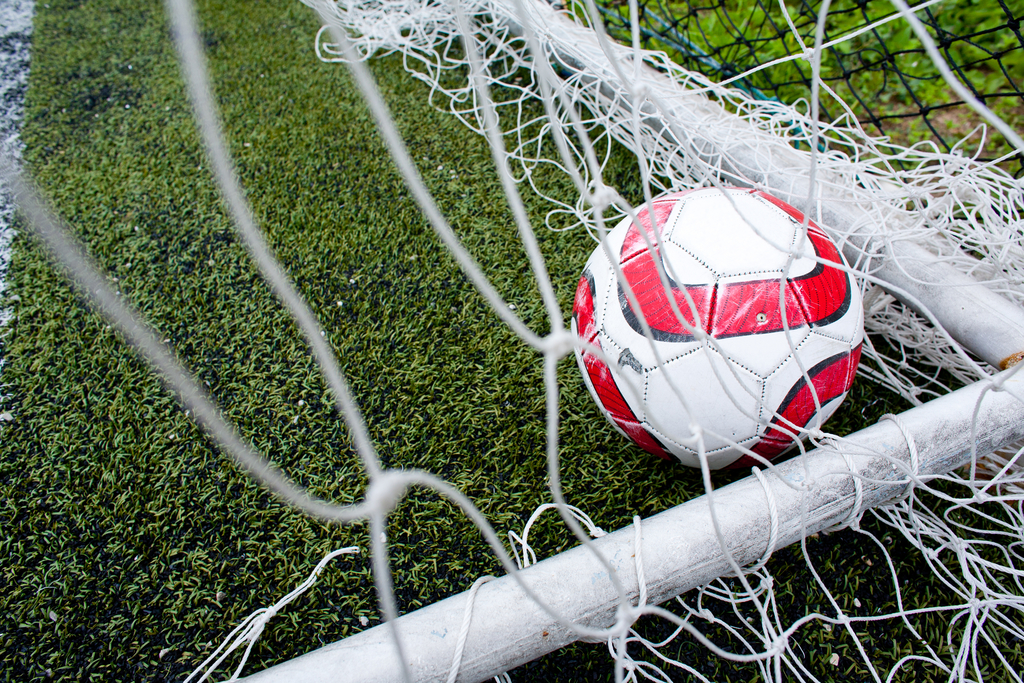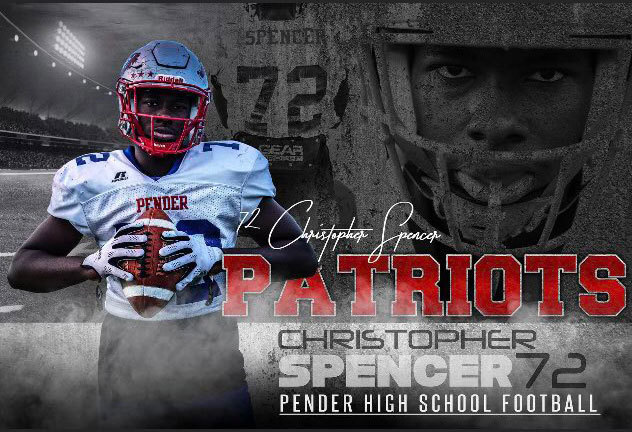 CHANGES ARE COMING to the K12payment system. The system will shut down 12/23/21 and change to
https://family.titank12.com/
on 12/27/21. Accounts can be set up now.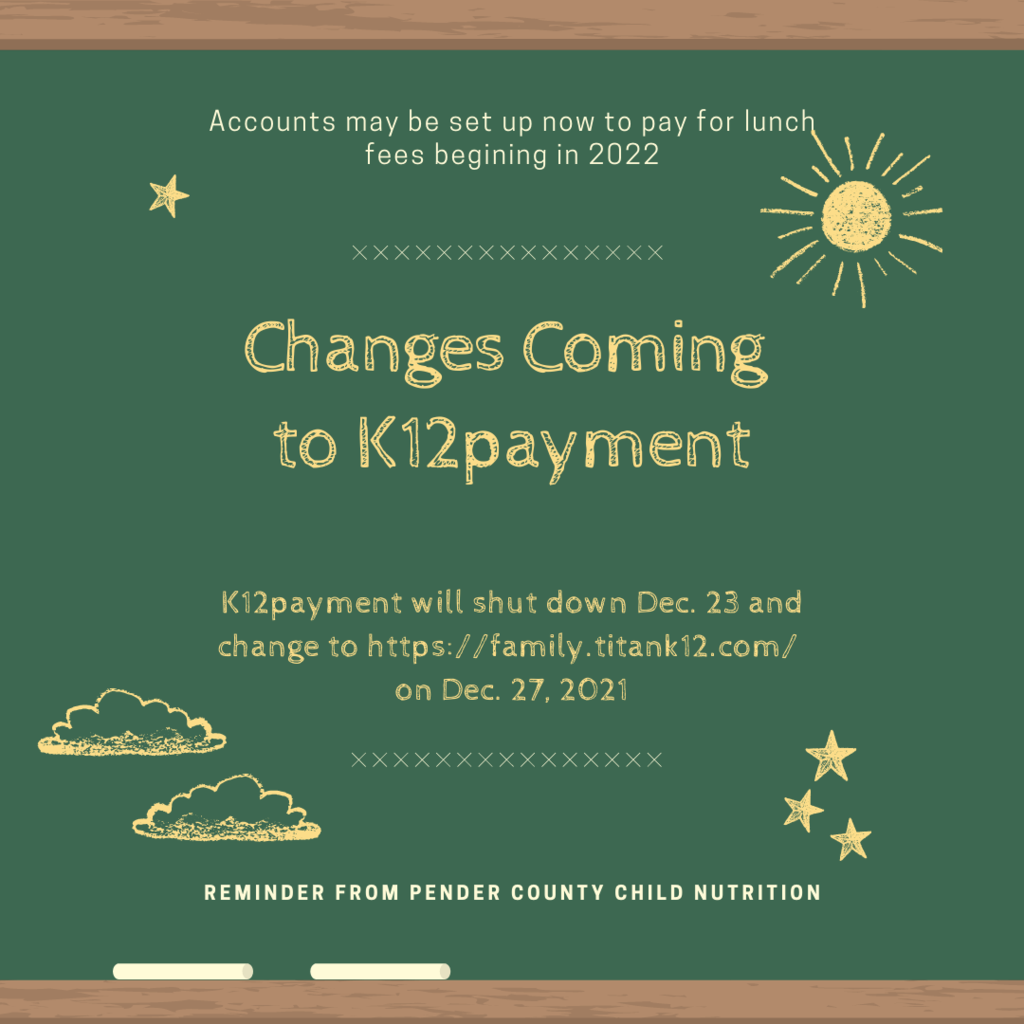 Enjoy some seasonal music tonight as the Surf City Middle School band performs their Holiday Concert tonight at 6pm. Location, ticket and livestream information is in the picture.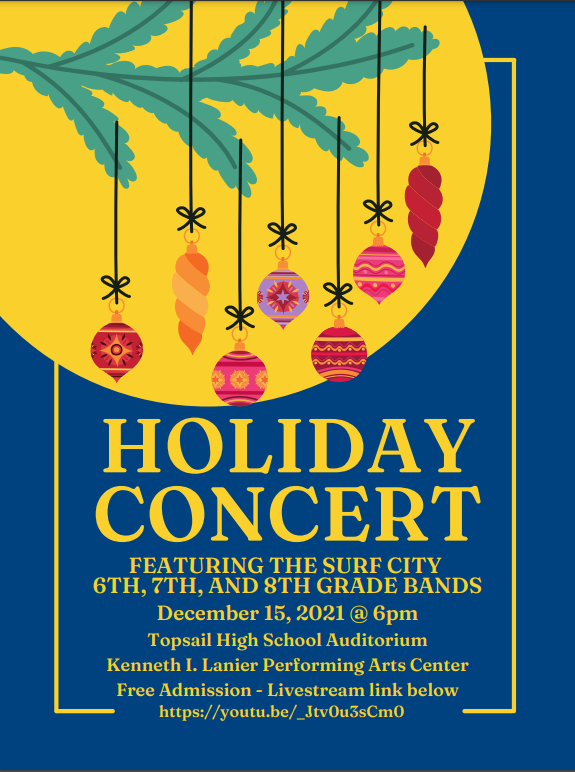 What do baby carrots, The Adams Family and math all have in common? They're all favorites of Olivia Sherman. The 3rd grader from Topsail Elementary School is this weeks Star News Pender County Student of the week!
https://bit.ly/3F21xOg
BOARD OF EDUCATION UPDATE - during Tuesday's meeting of the Pender County Board of Education, Brad George was voted in as Chair, Beth Burns was voted in as Vice-Chair. We thank outgoing Chair Cindy Fontana for her leadership over the past year and look forward to the year ahead.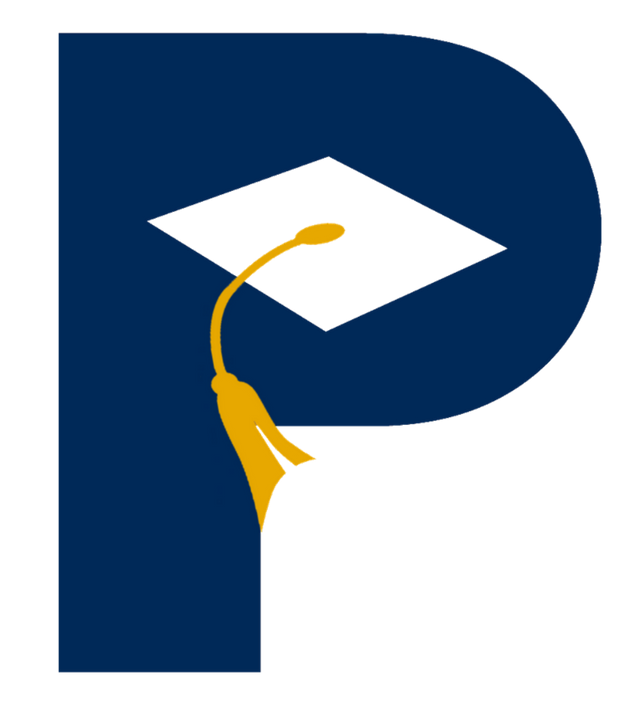 Burgaw Middle School students are tuning up for tonight's winter concert. The show begins at 6pm. **The show is only open to families of band members**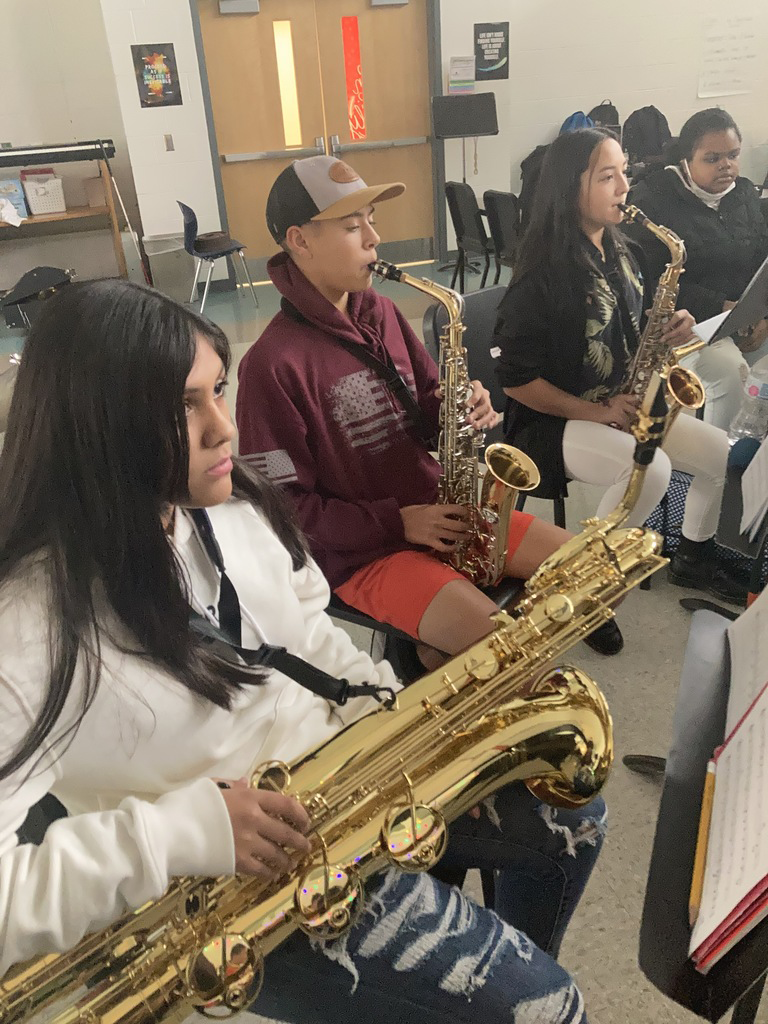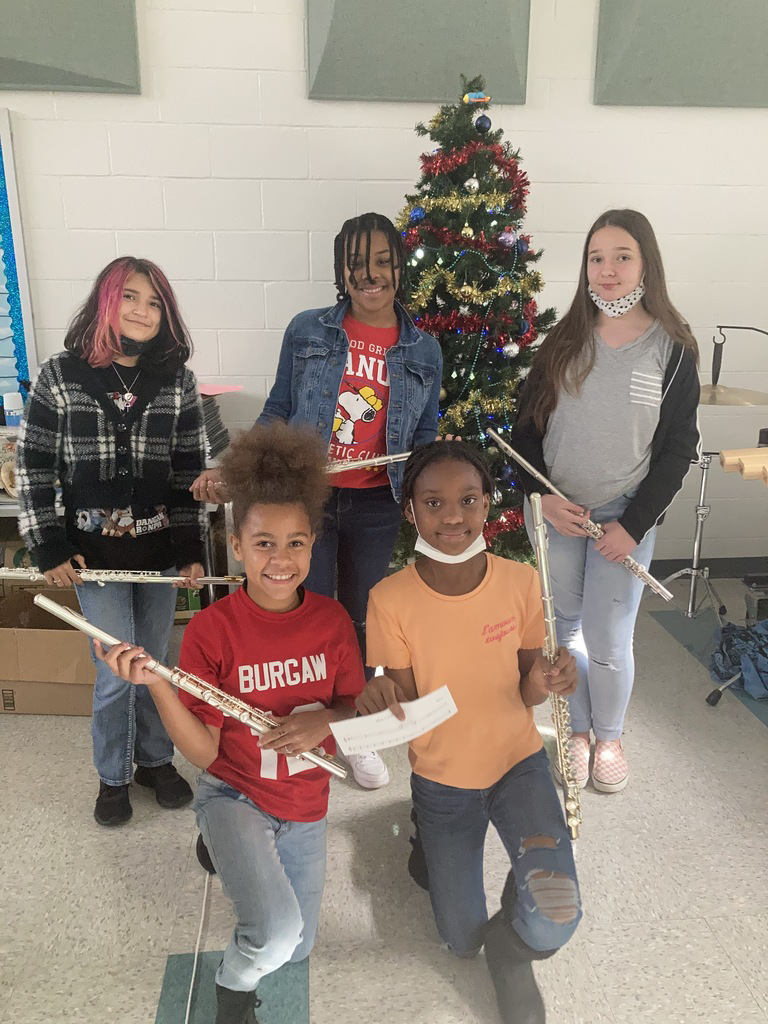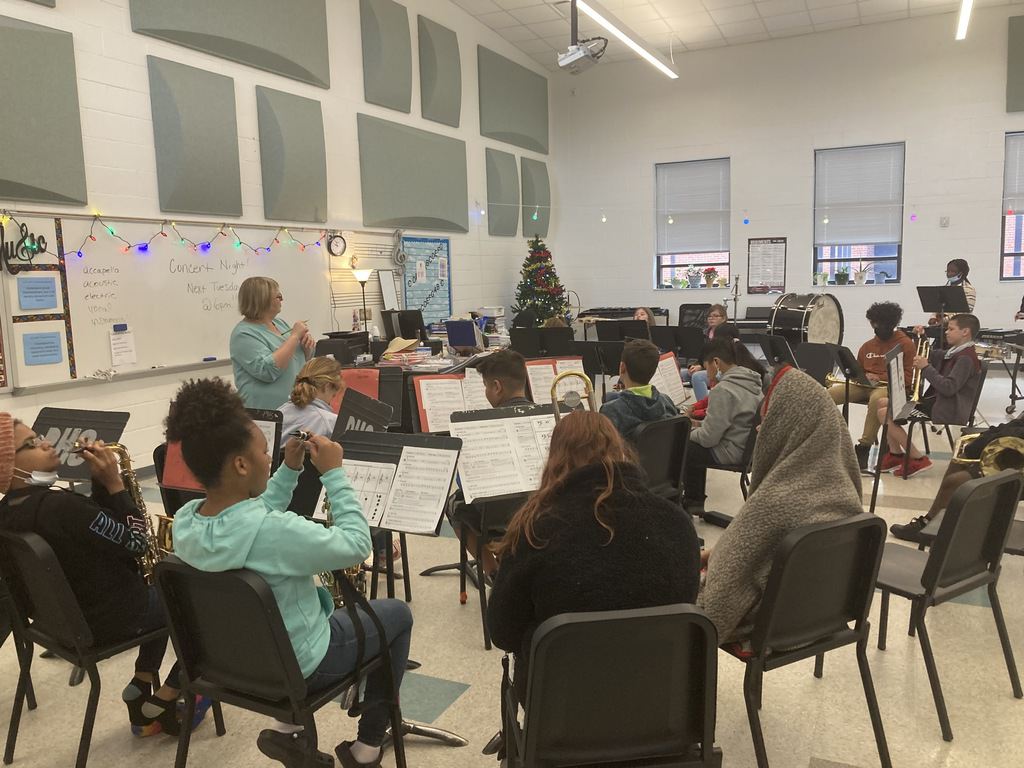 GAME DAY - The Pender Patriots travel to Tarboro in the Class 1A East Final. Kickoff is scheduled for 7pm. If you can't make it to the game, a link (*not affiliated to PCS) to watch is below - it is not free A SUBSCRIPTION IS NEEDED TO WATCH.
https://bit.ly/3oipMlA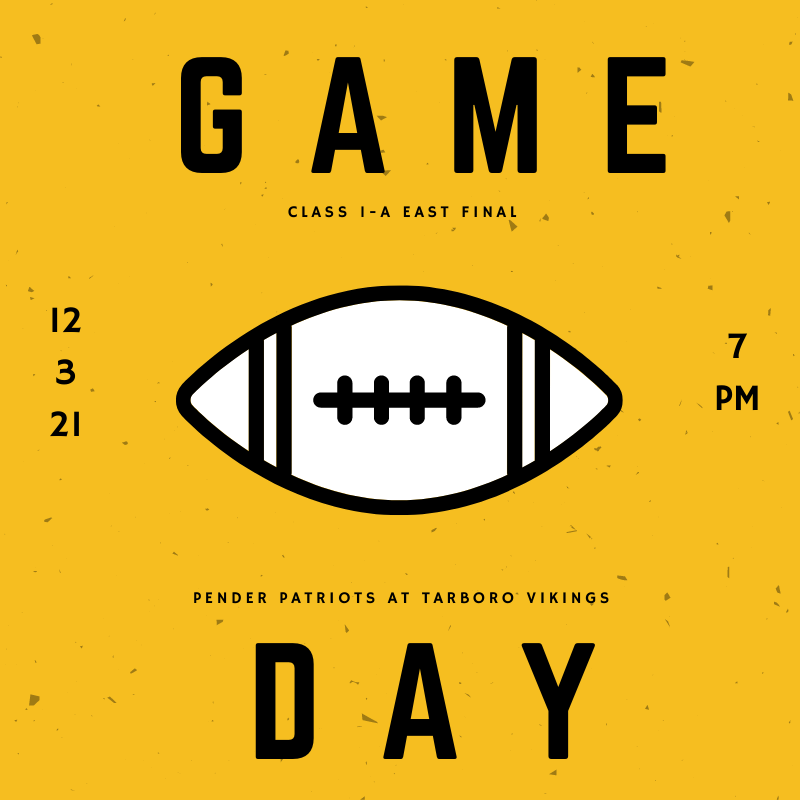 FAMILY HAS LOST EVERYTHING in a recent fire and is having to start over as the Holiday season is upon us. They have a place to stay but are in need of clothing - any help is greatly appreciated. *PLEASE CALL 910.249.2344 PRIOR TO DROPPING OFF DONATIONS. DONATIONS MAY BE DROPPED OFF AT ATKINSON BAPTIST CHURCH, 200 EAST CHURCH ST, ATKINSON, NC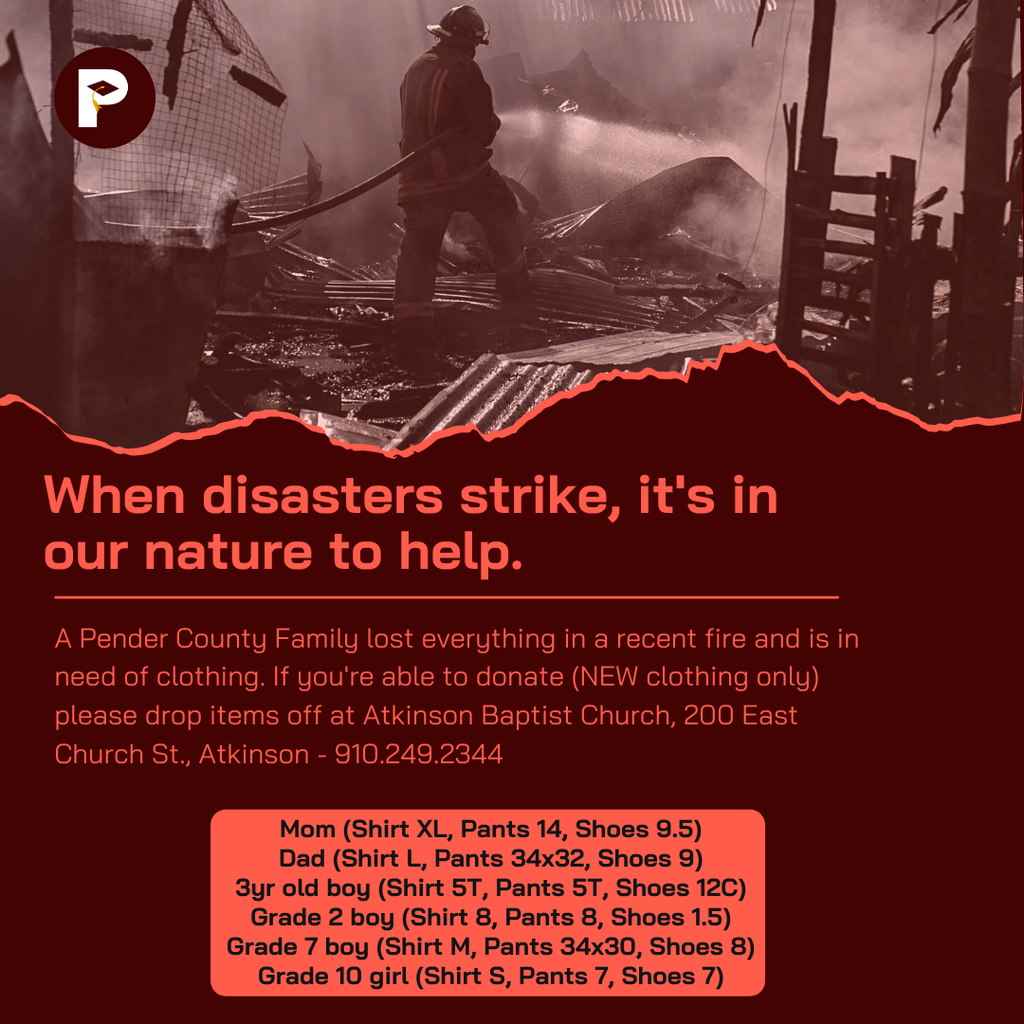 BLUE LIGHT SPECIAL - Friday the Pender Patriot football team will be escorted to the County line by the Pender County Sheriff's Office. The team will leave Pender HS at 1:30 and make its way to I40. Wish them well as they head to Tarboro in the Class 1A East Final!