(Burgaw, NC) - During the closed session portion of the July 12, 2022 Board of Education meeting, Pender County Schools (PCS) Superintendent Dr. Steven Hill informed Board members of his intention to retire. Dr. Hill's final day with Pender County Schools will be October 10, 2022.
Dr. Hill will be taking on a leadership role with the Greater Topsail Area Chamber of Commerce and will continue to be a vital part of Pender county.
"After 32 years of public service it's time to start giving back to my family full-time," said Dr. Hill. "Pender County Schools put its faith in me five years ago and over that time the district has been through a lot. I'd like to think that we came out of it all stronger and I have no doubt the district will continue to thrive."
Since taking over in September 2017, Dr. Hill has helped provide answers to the many questions and concerns facing public education. As Pender County continues to be one of the fastest growing counties in North Carolina, Dr. Hill has helped the district meet the needs of students while balancing issues that arise due to population growth, funding, natural disasters and an international pandemic.
Because of the unprecedented growth Dr. Hill spearheaded the effort to have a school bond referendum included on the November 2022 ballot. If passed, the $178 million bond would help with the construction of two new schools (middle, elementary) as well as an addition to Rocky Point Elementary and renovations to Topsail Middle and Burgaw Middle schools. The bond would also pave the way for a new central services building and bus garage. During its July 11, 2022 meeting the Pender County Board of Commissioners unanimously voted in favor of the Proposed School Bond Order Introduction & Resolution Setting Public Hearing & Authorization. A final vote is scheduled for August 1, 2022.
"We thank Dr. Hill for all of the hard work and dedication that he has put into his time with Pender County Schools." said Brad George, Pender County School Board of Education Chairman. "The work that Dr. Hill has done will live on for years to come, and if the bond is approved in November the schools that will be built will be his legacy and help with his vision of providing a pathway from the classroom to careers."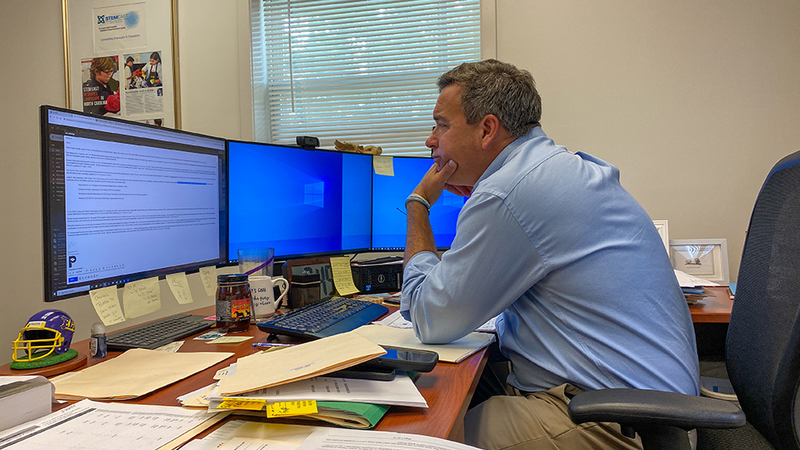 Under Dr. Hill's leadership, in 2021 Pender Early College became the first school in Pender county history to be named a National Blue-Ribbon School(1). Additionally, renovations and additions were completed at Burgaw Middle, Cape Fear Elementary, Cape Fear Middle, Pender High, and West Pender Middle. Penderlea, Surf City Elementary and Surf City Middle schools each opened for the 2018-19 school year.
For the 2020-21 school year Pender County Schools ranked 11th in education(2) and met or exceeded all State standards in all categories despite ranking 104th in overall funding out of 117 districts (local per pupil funding)(3). In 2021 the North Carolina State Board of Education recognized PCS as a Top Ten school district graduating 93.2% of students overall(4). PCS was also ranked 4th overall by the North Carolina Department of Public Instruction by percent of student Career & Technical Education credentials earned.
Beyond education advancements, Dr. Hill guided PCS through the social and emotional turmoil created by Hurricane Florence that closed schools for a month and resulted in $8 million in damage. This work included PCS serving more than a million meals and providing housing for local families in need. Dr. Hill was also instrumental in lobbying legislators and collaborating with government and private entities to gain recovery funds for a two-year rebuilding effort. During the crisis PCS raised student state overall achievement by more than a full percentage point.
During the rebuilding process an international pandemic (COVID-19) required rapid remodeling of schooling as it was known. Over a very short period of time, Dr. Hill led development of a monitoring dashboard and assisted PCS administrators through development of a 100% online education transformation. In just a few day's time PCS created a three-tier education system allowing for in-person daily attendance, modified in-person cohort attendance and virtual attendance instruction. The Pender Innovative Learning Academy was advanced to full development and continues to serve students as a full alternative education school.
Dr. Hill has served the public for 32 years and has held various lead positions throughout his career including, but not limited to, Regional Executive Director, District Director, Principal, Freshman Academy Administrator, Instructor and Public Safety Official.
Dr. Hill's accolades include:
Being named as a U.S. Delegate for the International Beijing Science competition in China
Serving on the North Carolina team for the national STEM Funders Network
Receiving the International Association for STEM Leaders' International Leadership Award for economic and community engagement.
Named as 2020-2021 NC School Based Health Alliance Superintendent of the Year
References
3 - http://apps.schools.nc.gov/ords/f?p=145:35:::NO:::
4 - https://www.pender.k12.nc.us/article/781891