(Greensboro, NC) - Pender High School has earned the Exemplary School Award. The award was presented during the North Carolina Athletic Directors Association breakfast in Greensboro.
The presentation of the award will happen at a home football game still to be determined.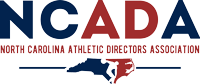 The award is given as a cooperative venture among the NCHSAA, the North Carolina Coaches Association and the North Carolina Athletic Directors Association. In addition to a trophy and a banner for display at the respective schools, each school receives a $1,000 cash award.
The Exemplary School Award recognizes the top overall school in the state in terms of the "total program," including but not limited to athletic success, scope of athletic opportunities offered, facilities, community interest and involvement, academics and the like.