(Burgaw, NC) - Michael Taylor, current principal at Heide Trask High School, has been hired as the Chief Officer of Auxiliary Services for Pender County Schools. Mr. Taylor was approved by the Pender County Board of Education during the June 30, 2022 Board of Education meeting.
"We're excited to have Michael on board." said Superintendent Dr. Steven Hill. "To have someone who you have previously worked with fill a vital role in the District brings a lot of comfort. Those who know Michael understand the work ethic he brings to this new position, he's detail oriented and will hit the ground running."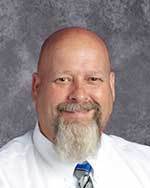 Mr. Taylor has served as principal of Heide Trask High School since July of 2018. Prior to joining Pender County Schools Mr. Taylor was with Johnston County Schools for 12 years. He was the district's Executive Director of Transportation and Growth Planning from 2015-2018 and also served as Director of Facilities Management among other positions.
A United States Marine (1988-94), Mr. Taylor owns a Masters of School Administration degree from East Carolina University and attended Appalachian State University (BS History) for his undergraduate education.
Michael Taylor will officially begin his new position on August 1, 2022. He takes over for Darren LaFon who is retiring at the end of July after more than 30 years of service with Pender County Schools.
Pender County Schools will make an announcement concerning the vacant principal position at Heide Trask High School at a later date.