Burgaw, NC - The first class of honorees for the Pender County Schools Wall of Fame were inducted as part of the June 14, 2022 Board of Education meeting.
Mary Gore Jordan, Judge Gary Trawick, Ambassador Mattie Sharpless, Dr. Johnny Batts, and Valdosia James Williams (posthumously) make up the first class of the Wall of Fame which is sponsored by the Pender Education Partnership which serves as the fundraising arm for Pender County Schools. Coastal Pender Rotary Club served as a co-sponsor purchasing the plaques that will hang in the Board of Education meeting room.
About the Inductees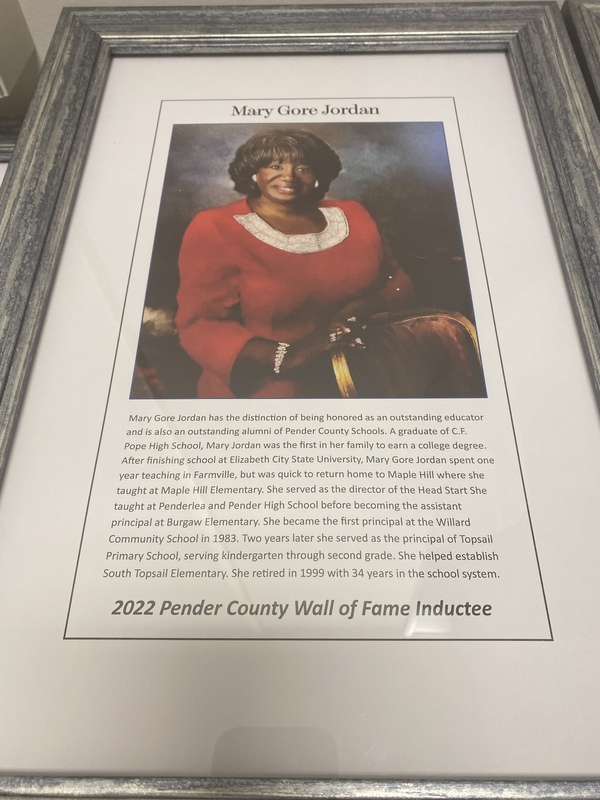 A Pender County native, Mary Gore Jordan is a C.F. Pope High School graduate that went on to serve the district after becoming the first member of her family to earn a college degree. She taught at Maple Hill Elementary, Penderlea and Pender High School before becoming the assistant principal at Burgaw Elementary. Jordan helped create South Topsail Elementary before retiring in 1999 after serving the district for 34 years.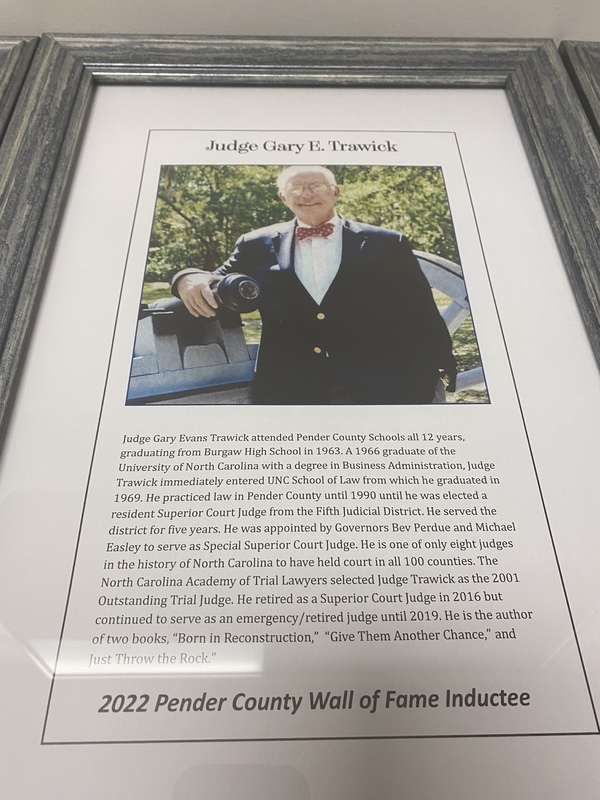 Judge Gary Trawick is a 1963 graduate of Burgaw High School. After graduating from UNC School of Law in 1969, Trawick practiced law in Pender County until 1990 when he was elected resident Superior Court Judge from the Fifth Judicial District. After serving the district for five years, he was appointed by Governors Bev Perdue and Michael Easley to serve as Special Superior Court Judge. Trawick is one of only eight judges in the history of the state to have held court in all 100 counties. Judge Trawick retired as Superior Court Judge in 2016.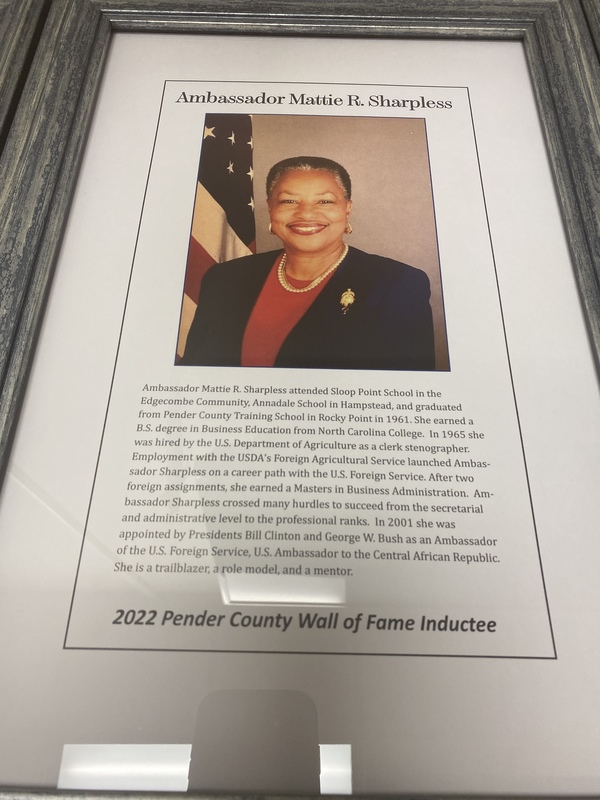 Ambassador Mattie Sharpless attended Sloop Point School and Annandale School before graduating from Pender County Training School in 1961. After graduating from college, she was hired by the U.S. Department of Agriculture leading to her career in the U.S. Foreign Service. Later she was nominated by President Bill Clinton and appointed by President George W. Bush as the U.S. Ambassador to the Central African Republic.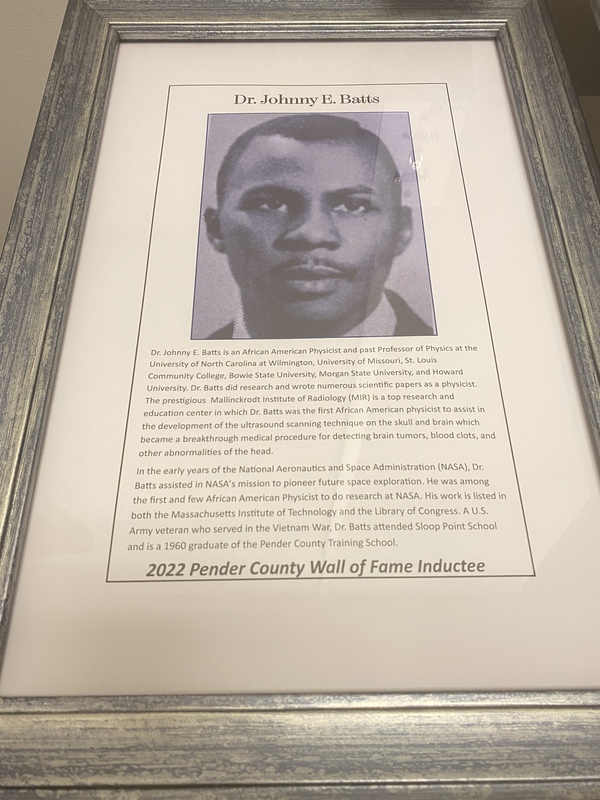 Dr. Johnny Batts is a 1960 graduate of Pender County Training School and a Vietnam Veteran. A physicist, Dr. Batts worked at the Mallinckrodt Institute of Radiology as the first African American physicist to assist in the development of the ultrasound scanning technique that helps detect brain tumors and other abnormalities in the head. While working at NASA, Dr. Batts helped in its mission to pioneer space exploration.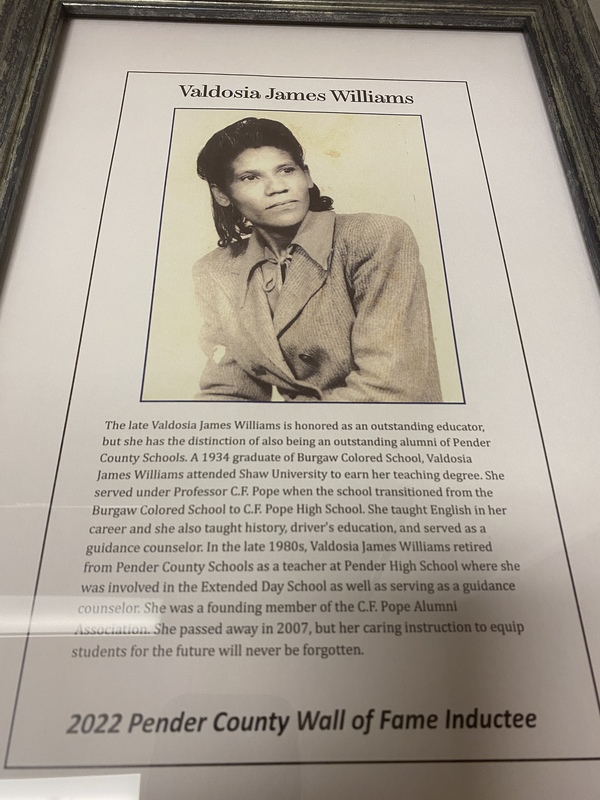 Valdosia James Williams is a graduate of the Burgaw Colored School (1934). After earning her teaching degree, she returned to the school as it transitioned to C.F. Pope High School. She was a founding member of the C.F. Pope Alumni Association. Williams died in 2007.
Follow this link more information on Pender Education Partnership and nomination information.