BURGAW, NC - Our annual Middle School Battle of the Books competition was held this year at Burgaw Middle School. We would like to thank Mr. Swanson and his staff, especially Sam Carradori and Coach William Page, for hosting.
Emily Law, Surf City Elementary media coordinator, volunteered to moderate. Melissa Taylor, Cape Fear Elementary media coordinator, also stepped up to coach the Cape Fear Middle School team for five weeks when they were without a Media Coordinator. In addition, we would also like to thank the district AIG coaches and our Digital Learning Specialist. We could not run this event without their help and support!
Many of the competitors read all 16 books, and their hard work and dedication showed. This year's competition was very close with 3rd place being decided by a single point. Three of the four teams scored well over 100 total points!
1st Place
Topsail Middle School Coaches - Amy Engle, Karin Wieland, and Jill Markijohn Team - Abigail Lockwood, Emily Atwood, Avery Graham, Esme Burnau, Charlee Markijohn, Nicole Vilchez, Cosette Burnau, Nola Nadeau, Desiree Mabe, Peyton Kalous, Ellison Gosma, Tommy Johns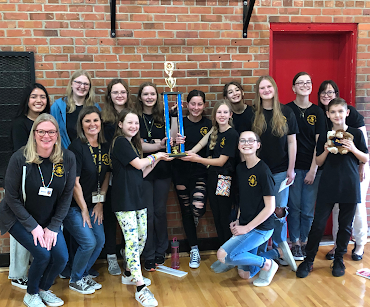 2nd Place
Surf City Middle School Coaches - Mary Tobin and Angie Schmitz Team - Alex Martin, Gage Andrews-Gulliksen, Amelia Burke, Lanie Abernathy, Anastasia Radewicz, Mallory Kulas, Brooke Graziano, Rosalie Walker, Cayden Allen, Taylor Evans, Emmalee Timaeus, Walker Powell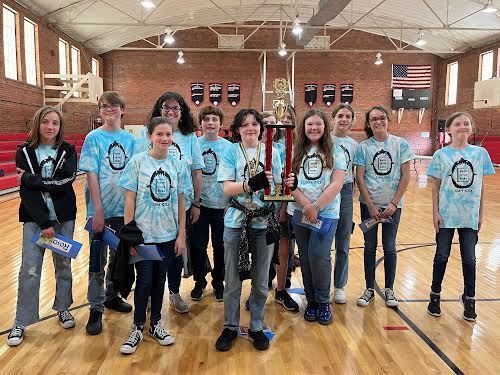 3rd Place
West Pender Middle Coaches - Amanda Diggs and Angel Nelson Team - Alondra Hernandez Andrade, Ashari Jones, Crystal Garcia Maurilio, Bethanny Ingram, Isabella Sholar, Braelyn McAllister, Julissa Bautista-Santiago, Celina Ferreyra Mota, Mariah Hansley